.
Izzy Craig might live in a town called Magic, but her life is anything but. After nursing her beloved grandfather, he has passed away, leaving her to manage a busy lake resort and an unrequited crush on the town's sheriff, Graham Nolan. Things start to look up when Graham's estranged brother Chris comes to town. If she can't have one handsome Nolan man, maybe his twin will do.
Graham's feelings for Izzy have always been complicated . . . and intense. When he realizes that his brother has encroached on his territory, he's not sure if he can deal. They've tried sharing a woman before, and that ended in heartache for everyone. But when Izzy's sketchy uncle enters the picture, Graham's cop senses go on high alert. He may very well have to trust his brother, Izzy, and himself, if he wants to keep the woman he loves safe.
Be Warned: menage sex (MFM), BDSM, anal sex, spanking, sex toys
.
FBI operative, Sarah Osmond, has a job to do—help save ten captive women from the evil Colter leader, Paul Statler. When General Armand sends in Jay Wagner and Riley Bishop to help, she's undeniably drawn to both men, but she won't let lust compromise her mission. Having hot, passionate sex with them is one thing, but falling for them is another.
Having grown up in foster care, Riley doesn't trust many people, but when he meets Sarah he denies she's his mate until the intense werewolf mating call draws him in and threatens to ruin everything.
Jay Wagner, who used to work undercover at Statler's firm, is frustrated because he has to keep his distance from the action—and from Sarah, who is also his mate. Not only is he determined to bring down the hated man, he must convince Riley and Sarah they need to succumb to their desires in order for the three of them to be together forever.
The only roadblock? Statler has other plans for her.
.
Kya Hawl is an architect on the Precinct One redevelopment, a prestigious and contentious project in the city-state of Velli. While she is happy with her part-time female lover, Judge Elmi Chadee, she wants more. She wants a family and children, for that she needs two men willing to put their life on the line to breed.
Tref Xant and his partner Dru Macon seem like the right guys; however, Tref has secrets and Dru is about to deploy to Precinct One, one of the roughest precincts in Velli. The redevelopment can't come soon enough. Tref would like to see the placed burned to the ground. But even that wouldn't be able to erase his memories of growing up there.
With Dru away Tref finds himself falling for Kya. Jealousy sparks between the men. A triad can never form as Dru wants Elmi and she has sworn off unions after her sister ran away to join the Terrin Sect.
As riots erupt and the redevelopment is threatened Dru realizes he has to fight for what he wants–something Tref learned long time ago. A four-way union–while unusual–would work. But will the women agree when they learn of Tref's past?
.
Lonely widower Paul knows he's ready to move on and start a new relationship, but doesn't expect to meet two attractive and interesting women at the same time. They want to recruit his jousting display team to feature in a TV show.
Becky and Hayley are best friends, as different as chalk and cheese, and both clearly fancy Paul. A decent guy at heart, he hopes to win one without harming their friendship. But the women don't make it any easier when they turn up the heat and leave him wondering what's going on.
A fantastic prize is within his reach. He just has to overcome his deepest fears, self-doubts, and fragile self-confidence. And be Hayley's leading man in the TV show she hopes will make her name. So no pressure. Just take a deep breath and let these two intriguing women lead him way outside his comfort zone.
.
What could possibly be better than one dragon? Two fierce, protective, dominant dragon males. Unless, of course, you happen to be a damaged female terrified of restraints.
Warning: This book contains two dangerous heroes, one brave heroine, violence, broken hearts, and lots of sex.
.
.
,
.
.
Kassius, Teague, and Berenger are dealing with serious vandalism on their property, but they aren't waiting any longer to claim Sephanie. They intend to draw the beautiful, curvy woman into their lives with romance and all the sex she can handle while they discover who is behind the trouble.
Sephanie has always wanted a menage and jumps at the chance to date the three sexy men. Their first dates are everything she's dreamed of and leave her craving more. When vandalism and sabotage begins to focus on her, Sephanie doesn't understand it, but is determined to stay with her men.
The person behind the attacks won't stop until he has what he wants. And it seems like what he wants is Sephanie, but Kassius, Teague and Berenger are having none of it. Sephanie is their woman, and they're going to keep her safe.
.
Everyone deserves a second chance…
As an ancient succubus, Lady Aislynn is cursed to survive off sexual energy for eternity. To live without killing, Aislynn runs the Underground, a pleasure club in Las Vegas where she safely feeds on the ample eroticism of her patrons. A murder inside her club threatens the haven she's built, even as it brings unwanted attention—and possible salvation—in the form of two handsome brothers, both in search of the truth.
Werewolves Chayse and Nik Wolffe haven't seen each other in five years, and the last place they expect to cross paths is a strip club. The detective and PI find their cases intertwining around the enticing Aislynn and her club. Nik may believe in Aislynn's innocence, but Chayse knows all too well the destructive power of a succubus. He's determined to keep himself and Nik free of her spell.
Nik's missed sharing lovers with his brother, but Chayse seems dead-set against reconciling the past or building a future. Luckily fate, and the Goddess, may have plans for the two embattled werewolves and the succubus with love enough for them both.
.
School teacher, Julianne Matthews, has been married to her own real life Prince Charming, the hunky Jared Matthews, for over a year and they couldn't be happier. That is, until Jared invites his old college buddy, Cole Richardson, to be a guest in their home for the weekend. Cole is a wealthy investment banker from out of state who has plans of going into business with Jared. He came to visit one weekend in order to sort out the details of that business but when these three get into a room together for the first time, the chemistry among them is something none of them had planned for.
Julie realizes she's just as attracted to Cole as she is to her husband and would like nothing more than to be sandwiched between the two hot men in bed. However, she knows that will probably never happen and feels completely guilty for even thinking about it. Imagine her surprise when she finds out that neither man finds the idea repulsive in any way and that they had both been having similar thoughts all along.
What will become of Julie's perfect marriage when her husband's house guest gets invited into their bedroom?
Be Warned: menage sex (MFM), bondage, sex toys, public exhibition, anal play
.
Sometimes the only way to hold on is to let it all go.
Hart Clan Hybrids, Book 3
Finding out she's a byproduct of her maker's plan for world domination is a letdown for Shelly Meyers. Now she must figure out where to pin her loyalties. Tradition tells her to follow her leader, but something tells her tradition is overrated. Is it her conscience? Nah. Not that. Not anymore.
Richard Paulson never planned on turning furry, yet here he is, an Alpha in charge of a pack. Even with Doc, his beta, at his back, he seems to keep winding up in another frying pan.
Long ago, Trevor "Doc" Paulson gave the woman he loved to someone who could give her the life she deserved. Now, as he and Richard fight to prevent history repeating, he's struggling not to act on pure attraction—again. He knows he should be Rick's voice of reason, but what happens when the three of them get close makes no sense at all.
Together they must decide to let go of the past to forge a new future—and fast. Before a power-hungry vampire takes it all away.
.
How can she f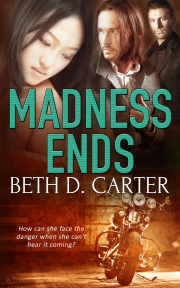 ace the danger when she can't hear it coming?
Kaiya Hanazawa lost her hearing as a child and her family cocooned her in protection. As an adult, she was saved from a human trafficking ring, and her grandfather put her behind walls so high they became her prison. Now she's free and ready to prove that she isn't as innocent as she looks.
Gordon 'Gabby' Dixon doesn't say a word—until he meets Kaiya. His knowledge of sign language helps bridge the attraction between them, but he'd never have Kaiya without his best friend Boone Tempest there to keep Gabby's nightmares at bay.
Kaiya travels with Boone and Gabby to uncover a mystery left by the Men of Hell's previous club accountant. Little do the three of them realize that a man bent on revenge is following them. At night, passion flares between the threesome, but just before they're able to reach for the happily ever after, a hailstorm of violence threatens to sweep them away.
Reader Advisory: This book contains scenes of anal sex and violence.
Publisher's Note: This book is linked to the Red Wolves Motorcycle Club series and is a sequel to Mad Delights.
.
Uptight, serious, introvert…those were the words most used to describe James.
The middle brother in the Becker family, owners of a prestigious race horse farm in South Carolina, though austere was covertly a playboy.
Unable to resist a beautiful body, whether male or female, James never had a desire to commit to just one. A consummate player, he had no interest in a relationship.
Never say never. A broken ankle was the catalyst that led James to consider a relationship. Falling for a man already in a committed relationship with a woman was intricate enough. But the likelihood of their woven interests in each other becoming a real relationship was threatened by shallow judgment, the media and a troublemaking former barn hand.
.
.
Two mates are better than one…
Vanessa lives vicariously through the romance heroines in her overflowing bookshelf. No real man can ever measure up to the sultry, shapeshifter heroes with their feral smiles—or so she thinks until a creepy costume shop and a chance encounter with a fortuneteller shake up her ordinary life. When Vanessa's best friend brings her to a sexy costume party, she realizes more than fur is going to fly.
Rick is an Alpha cat shifter and co-owner of the Imaginarium. When he scents the luscious Vanessa, he has no intention of letting her slip away. But Rick isn't the only man searching for his one true love. Cian is a former Captain of the Winter Court in Faery, wielder of shadows and magic. When Fey enchantment and shifter might collide, more than mere hearts are caught in the crossfire. And as a threat looms closer with the turning of the season, both men may be the keys to Vanessa's heart—and her survival.
.
[Ménage and More: Erotic Rubenesque Interracial Consensual BDSM Ménage a Trois Romance, M/M/F, with M/M, HEA]
Lucy Willis feels like her life has been on hold forever. Now at 49 she decides it's her time. When she meets two very attractive fifty-plus men she is surprised to find out they are bisexual and want her to join them.
She is tempted, but Lucy is too embarrassed to tell them her secret wish— that she needs to be controlled in bed.
Then she discovers that Sebastian is a Dom!
Tentatively she accepts their friendship which soon develops into a love match for the three of them. Will Lucy finally find the happiness she had been searching for all her life or will fate step in to ruin it all?
Note: This book is primarily written in one point of view.
.
Elaine Watkins, Public Relations Advisor, is surprised when she receives a summons from the very attractive and enigmatic Dr. Xavier Vincent. She worships the talented physician and company icon responsible for developing the cure that saved her sister's life and isn't immune to his charm. Even though puzzled by his request, she is excited and eager to get started on his latest project.
But Dr. Vincent has other ideas. Instead of discussing cures, drugs and marketing strategies, he asks Elaine to join him in Paris to indulge his unique sexual appetites.
Torn between gratitude for saving her sister, her attraction for the powerful man and compromising her pre-conceived notions of sexuality, she must decide if it's easier to feed his desires or walk away. Until she devises a plan of her own.
"Make no mistake, Elaine, I am a king. Kings command and conquer. They are brutal and uncompromising. You don't want a king. Face it, you came here expecting a saint." – Dr. Xavier Vincent
.
In book five of the Hidden Pack: Mike Adams life has been spiraling down for awhile, leaving him questioning his past and his future.
Emerson Archer comes back to the town of his youth to be their doctor, putting him in the perfect position to help a man he had been friends with since their childhood. Well, at least friends until one night as young adults changed the relationship, leaving the friendship tarnished and two young men going in separate directions.
Abigail has been on the run since she was sixteen, and it seems time has caught up with her. Just when she's about to give up all hope, she is rescued by someone from her past. The problem is she doesn't remember him.
Three individuals, three intertwining pasts, and the keys to everyone's happily ever after.
Can Abby gain her memory back in order to save herself, or will she be helpless to those around her? And can Mike and Emerson reconcile their differences or let their one chance at a future pass them by?
Join everyone in Misty Falls on this last and final adventure of the Hidden Pack, where secrets are discovered, pasts come back from the dead, and the Master of evil is finally revealed.
.
In the darkness of night, desire reigns supreme.
The sins of the past live on in the present…
Carefree submissive Linnet Adams is living the dream with a promising future, another semester of school under her belt, and best of all, the devotion of Master Gage. Her life at Crave, the city's most exclusive BDSM club, is everything to her until she's thrust into a living nightmare.
Seven years, seven murders…
Ryder, a male submissive at Crave, is devoted to the lifestyle and one very hard to pin down Domme. He is also a Doctor of Psychology specializing in BDSM related crimes. When yet another murder occurs, he is asked to assist Detective Linnet Adams. Sometimes the truth is hiding in plain sight, and all it can take is one kiss.
The whisper of the cane can bring them heaven or hell…
Gage still dreams about the sub who got away. Linnet was his fantasy girl and the woman he wanted to spend the rest of his life with. As the new owner of Crave, he still can't get her out of his mind.
A discovery is about to rock his world and bring the past and future colliding together. If only he has the courage to embrace it.
.
Evie has made a deal with the devil.
She has a safe-word. She has a way out. But her submission to him is her only way in…
**********
Billionaire Ford Hawthorne is cool sexuality and dominance, his best friend, biker Charley Baker, is warm muscles and affection, and Evie is the lucky girl in the middle.
Ford is a bad boy with dimples that make women want to take their clothes off, but he has a secret desire he's never allowed himself to act on—his fantasies of domination and control.
Unlimited, unquestioning sexual pleasure at his beck and call.
Big, scruffy, and handsome as sin, biker Charley Baker is two hundred pounds of sunshine, muscle and sex appeal. Charley has a secret of his own…he's in love with his best friend, Ford. But Charley knows what Ford really wants, and it's not him.
Evie is a paralegal working for Ford's attorney, and unbeknownst to Ford, she's caught in a situation that could have a deadly outcome. A late-night, impulsive romp at the law firm with Ford has far-reaching consequences, setting into motion a chain of events that will lead Ford, Charley and Evie through the twists and turns of a sexual journey that none of them saw coming. A journey that knows no bounds—in ecstasy, in heartbreak and in danger.
This novel is a complete, standalone, contemporary romance with a happy ending, no cliffhangers, and lots of hot, satisfying sex between two hot heroes and a heroine strong enough to handle them both.
.
.
.